A Glenwood or Warmwood,19 foot of kitchen cabinets $1779.90 or New but (Repaired) Scratch and dents$1,112.44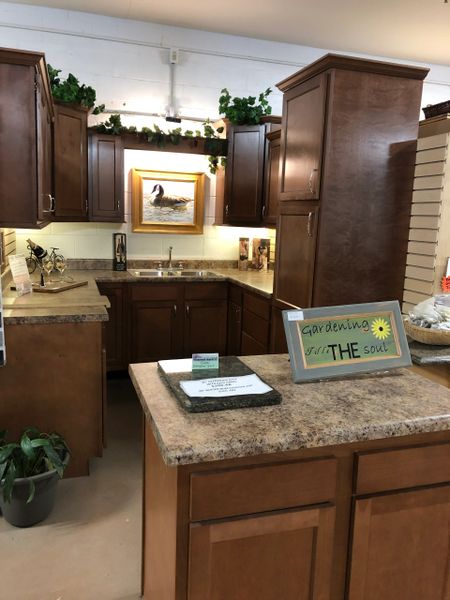 A Glenwood or Warmwood,19 foot of kitchen cabinets $1779.90 or New but (Repaired) Scratch and dents$1,112.44
19' of Glenwood or Warmwood (Repaired) Scratch and dents are 40% off of our normally low retail price.. Kitchen Cabinets only!  Counter top sold separately.
Inventory changes every day but we normally can sell you most of your kitchen with repaired seconds with the rest of the cabinets in the same but new cabinets.
Glenwood and Warmwood are the same price.
The displays you see in these pictures are Repaired Scratch and Dent cabinets!!
Repaired Scratch & Dents are new cabinets that have jumped the line, dings or small imperfections, dents on the sides or have slight damage (with fronts that shows new). We work cabinets in a kitchen where you would not know new from repaired after you installed them.
These are not discontinued cabinets we have most of them in either repaired scratch and dents or all new in standard sizes.
All Repaired seconds are currently 40% off new prices. We would be happy to price them for you or you can look at the new under (Shop) Glenwood Shaker Cabinets , Warmwood Shaker Cabinets, or Chadwood Oak Cabinets, Just take 40% off of our retail price for Repaired.
03/10/2020, We currently have over thousand (repaired) scratch and dents cabinets in stock.
Our stock changes daily so call before you drive. 317-421-1750 sales.
Full kitchens are possible in (Repaired) Scratch & Dents, but may require a few new cabinets to fill full kitchen orders.
Local pick up only!
Above pictures are prices for a 19' foot kitchen for all repaired seconds. all though we keep hundreds in stock there are no guarantees that we will have the size you need unless you call,(so call to check stock). We pick up scratch and dents and new cabinets every week but sale them every day. so again call before you drive! 
A New D White kitchen the same size 19' kitchen is $2174.33 all New,
We have very few  repaired scratch and dents in D White  but any we have would be 40% off.

Thank you
Made in the USA!