Painting Safe Pro 20x20 (Studio Palette with cover & paint preserving process)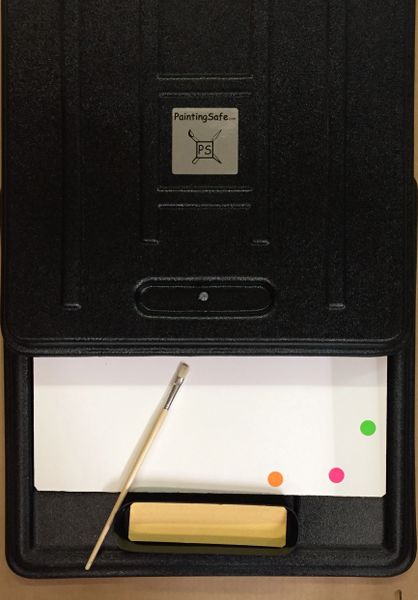 Painting Safe Pro 20x20 (Studio Palette with cover & paint preserving process)
  Pro Painting Safe 20"x20" (Studio Palette with cover & paint preserving process)
Stop waisting oil paint!
Now you can buy our new Palette and cover with our patented oil paint preserving process.
Made from 1\8" and 3\16" thick thermoformed ABS with an inside 17" x 14" removable mat and removable charging pan.
When your finished painting for the day just charge the inside pan by adding two table spoons of baking soda close the lid and pour a little vinegar in the pocket in the top of the cover. The mixture creates CO2 gas  that is heavier than the air that's inside the palette, it flows over the oil paint to slow down the oxidation. (The same thing that's in your soft drinks!)

The Painting Safe Studio Palette with cover and oil paint preserver is made in the USA and with thermoformed ABS material.