Artist Painting Safe Box Easel 16 x16 & Side Tray and Rigid Base Plate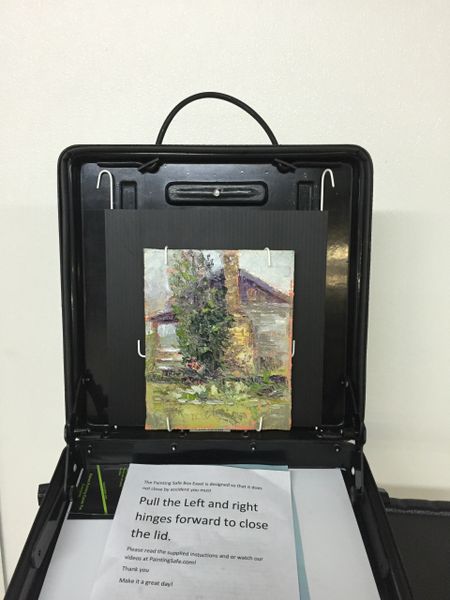 Artist Painting Safe Box Easel 16 x16 & Side Tray and Rigid Base Plate
Artist Painting Safe Box Easel (Made like the Pro but one pound lighter), with Tripod Base Plate and Side Tray, (Does not come with tripod)
16 x 16 x 3.5 . This package has the 2 pound Heavy Duty Rigid Easy Remove Tripod Base Plate for the artist that does not mind the extra 1.5 pounds. This base plate makes the easel easy to remove and rigid but adds a little weight.
3.4 pounds plus 2 pound Heavy Duty Base Plate
Every Painting Safe box easel comes with adjustable canvas slide hardened wire hooks for the use of many size canvases or panels, removable matte, removable charging pan and removable medium cup.

Ready to fit your tripod or fields easel!
Paint close and carry.
Use as a table top easel, connect it to your standard tripod or connect it to your field easel.
The Student model is made from .120 material one pound lighter than the Pro for less weight.