Warmwood Oven Cabinet 30"w x 24"d x 84"h (Local Pickup Only)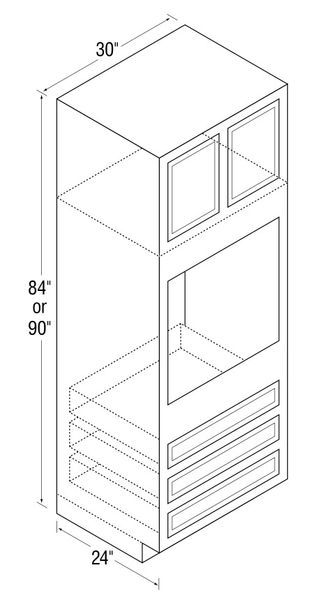 Warmwood Oven Cabinet 30"w x 24"d x 84"h (Local Pickup Only)
Warmwood Oven cabinet 30" W x 24" D x 84/90" H.
- to accommodate almost every type of oven, opening can be cut from MINIMUM width of 21" to MAXIMUM width of 28.5" and
- MINIMUM height of 27.5" to MAXIMUM height of 60" (one or more lower drawers may need to be removed).
All Frames are built of solid 3/4" hardwoods. Solid wood corner blocks and solid wood hanging strips.
End panels consist of 3 ply construction, 1/2"thick engineered wood core with hardwood veneers.
All Kitchen Kompact base cabinets feature plywood drawers as standard. A front to back epoxy -coated drawer system is securely attached to a solid wood strip in the back of the cabinet for stability, and years of smooth operation.
*if out of stock, lead times are normally 1-2 weeks after order is placed*
Made in the USA
Fully Assembled. NO SHIPPING. For questions call 317-421-1750.